LAST YEAR WE TOURED recent house price trends Post. Let's update the data visualizations with data through December 2017.
We are going to show house price trends using data from the publicly available Freddie Mac House Price Index.
Animation:
Here's an updated animation showing trends in the top 20 metro areas, based on population.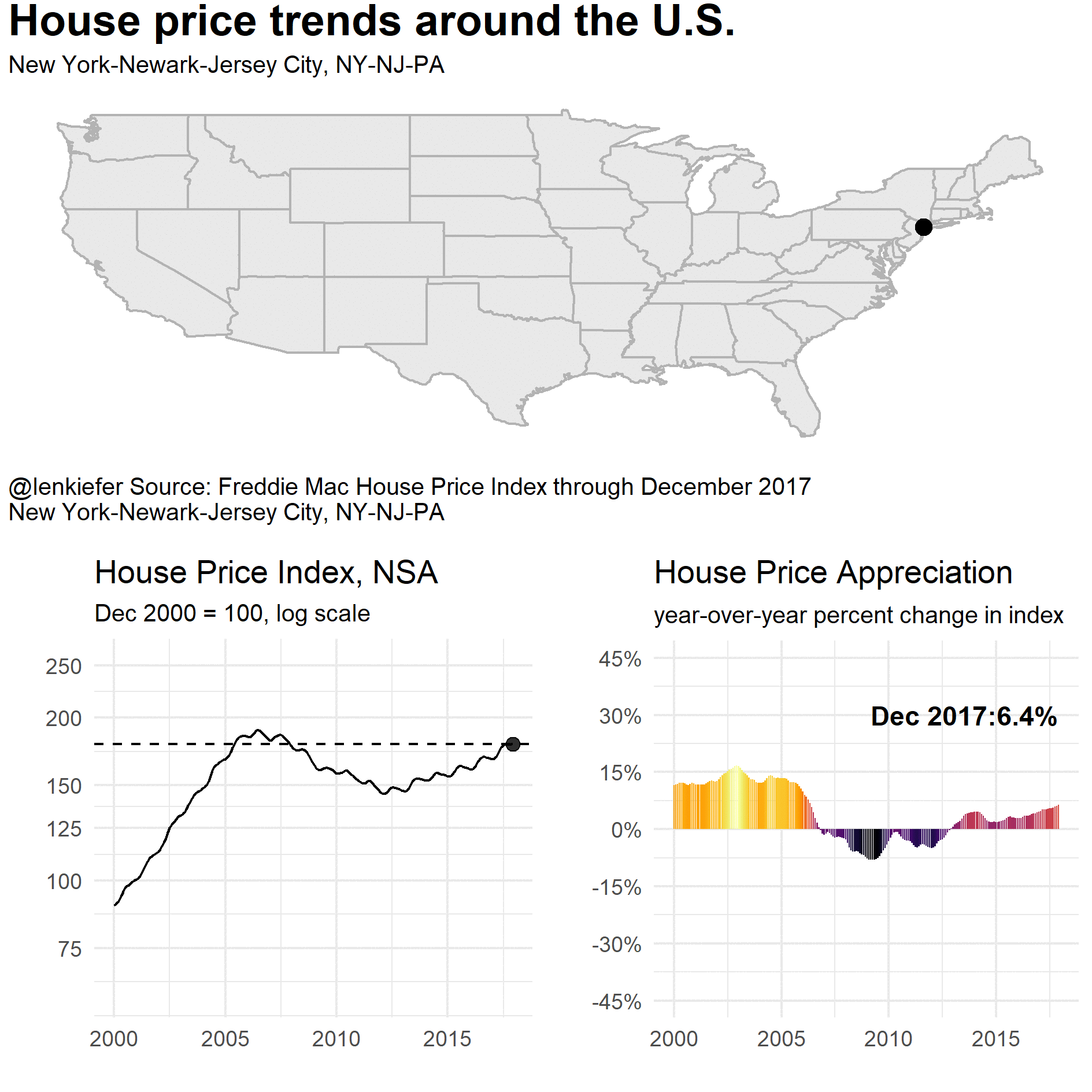 Below, I'll plot stills for each of the 20 metro areas. Later I'll follow up with some additional visualizations and some commentary.
[1] "01_New York-Newark-Jersey City, NY-NJ-PA.png"
[2] "02_Los Angeles-Long Beach-Anaheim, CA.png"
[3] "03_Chicago-Naperville-Elgin, IL-IN-WI.png"
[4] "04_Dallas-Fort Worth-Arlington, TX.png"
[5] "05_Houston-The Woodlands-Sugar Land, TX.png"
[6] "06_Washington-Arlington-Alexandria, DC-VA-MD-WV.png" [7] "07_Philadelphia-Camden-Wilmington, PA-NJ-DE-MD.png" [8] "08_Miami-Fort Lauderdale-West Palm Beach, FL.png"
[9] "09_Atlanta-Sandy Springs-Roswell, GA.png"
[10] "10_Boston-Cambridge-Newton, MA-NH.png"
[11] "11_San Francisco-Oakland-Hayward, CA.png"
[12] "12_Phoenix-Mesa-Scottsdale, AZ.png"
[13] "13_Riverside-San Bernardino-Ontario, CA.png"
[14] "14_Detroit-Warren-Dearborn, MI.png"
[15] "15_Seattle-Tacoma-Bellevue, WA.png"
[16] "16_Minneapolis-St. Paul-Bloomington, MN-WI.png"
[17] "17_San Diego-Carlsbad, CA.png"
[18] "18_Tampa-St. Petersburg-Clearwater, FL.png"
[19] "19_Denver-Aurora-Lakewood, CO.png"
[20] "20_Baltimore-Columbia-Towson, MD.png"