LET'S PIXELATE AMERICA. This morning I happened across a fun blog post on how to generate Pixel maps with R via R weekly.
The basic code is so easy, all you need is ggplot2 (which I get from the tidyverse).
We can modify our dark theme and generate a dark background. Then we'll animate it to get: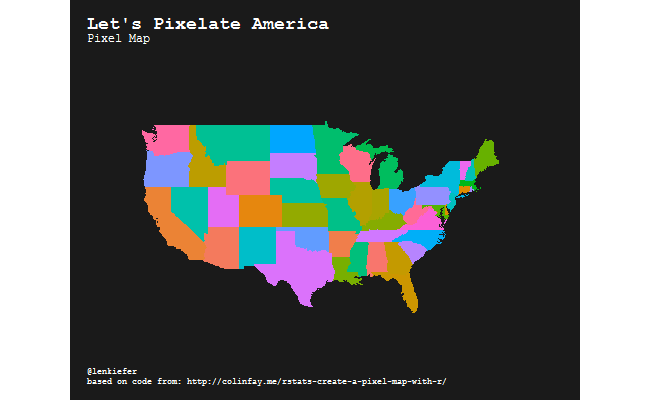 Using this code:
A practical use for this?
This is fun, but is there any practical use? Maybe.
When I construct data visualizations I like to use a "squint test" where I squint my eyes and simulate a lower resolution visualization. If I can still get the main point through squinted eyes, then the visualization passes the test. Let's try that with some real data.
We'll plot a state map showing annual house price appreciation as measured by the FHFA purchase-only house price index. These plots are the modified versions of the ones from this post I shared last year.
This map seems to do okay on the squint test. The extreme declines of 2008 and 2009 are clearly seen in the maps. But let's use the pixelation trick to generate a pixelated version:
Okay, so even with our simulated squint, the key patterns still seem visible.